Blog
Fuel Cycle's Employee-Focused Approach Earns Inc. Best Workplaces Honor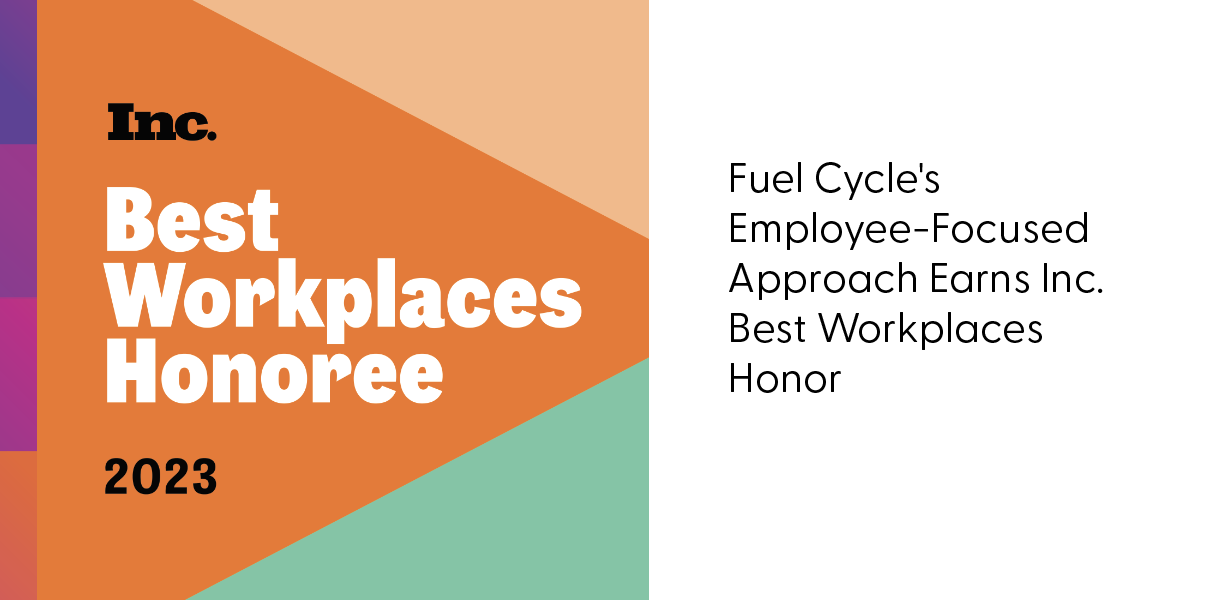 Recently, we announced that Fuel Cycle has been recognized as one of the best workplaces in the US by Inc Magazine in its annual list of the Best Workplaces for 2023. After collecting data from thousands of submissions, Inc. selected 591 honorees this year. This list names companies that have excelled in creating exceptional workplaces and company culture, whether operating in a physical or a virtual facility.
The Inc Best Workplaces list is compiled based on employee feedback, and it recognizes companies that have created outstanding workplace cultures, employee engagement, and performance. Companies are selected based on a survey of employees that assesses a range of factors including management effectiveness, benefits and perks, opportunities for growth, and overall company culture. The organization's benefits were also audited to determine the overall score and ranking.
Our Company Culture
Fuel Cycle's recognition as one of the best workplaces in the US is a testament to the company's efforts to create a culture that fosters innovation, collaboration, and employee engagement. The company's commitment to creating a positive work environment for its employees is also reflected in one of its core values – "team before self". We foster an environment of support and respect, building Fuel Cycle and celebrating its success together.
"At Fuel Cycle, we firmly believe that our people are the driving force behind our success. It brings us immense joy and pride to be recognized as one of Inc's Best Workplaces. This recognition is a testament to our unwavering commitment to fostering a workplace culture that thrives on collaboration, innovation, and excellence. As the Head of People, I can personally attest to the dedication and hard work that our employees put in every single day to make Fuel Cycle a great place to work. We are determined to keep building on this success and creating an environment that our employees and customers are proud to be a part of." – Lyndzi Phan, Head of People Operations
Maintaining a Collaborative Work Environment
One exciting finding we gleaned from the survey is that the top word our employees used to describe our company culture was "collaborative." This is a source of great pride for us, as a collaborative culture is one that promotes engagement, innovation, and success. At its core, collaboration fosters a sense of belonging and encourages individuals to grow, learn, and support one another. By prioritizing a collaborative work environment, we have created a dynamic and engaged workforce that is better equipped to tackle challenges, find creative solutions, and drive long-term success.
The Future is Bright
We are proud of Fuel Cycle's recognition as one of the best workplaces in the US and believe in the importance of creating a positive work environment for employee engagement and performance. We are honored to receive this award and believe that companies like Fuel Cycle that prioritize employee well-being and engagement are well-positioned to thrive in the future.