Blog
Doing Business in the Global Economy: Cultural Competence is Crucial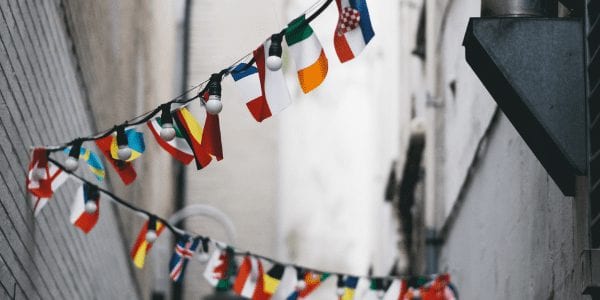 The global economy transformed the way we do business. Companies have diverse customers from around the world with different backgrounds and the internet has created an equal playing field for international competition. As a result, businesses develop and market products and services cross-culturally. Cultural competence is crucial for companies and employees to succeed in the global marketplace.
What is Cultural Competence?
Companies and employees with cultural competence are knowledgeable of and interact effectively with people of different racial, ethnic, and socio-economic backgrounds. Culturally competent companies value diversity and demonstrate behaviors, attitudes, and policies that help them do business with diverse people. Employees who are culturally competent are knowledgeable of individuals from various backgrounds and effectively communicate and work in diverse teams and partnerships.
Domestically, the workforce is gradually shifting to becoming more culturally diverse, which is seen as a positive for companies who operate on a global scale. A diverse workforce means leveraging employees knowledge and experiences to speak to a worldwide audience and expand to other markets.
Companies with Cultural Competence
There are huge differences between companies that merely preach diversity and those that live and breathe it. Culturally competent companies' value and integrate diversity and inclusion into their policies and everyday practices. These principles are established amongst the top (i.e., in the C-Suite) and are transferred to all levels of the organization through training and hiring employees with cultural competence. Diverse employees offer different cultural perspectives that are useful in achieving a variety of business objectives in areas like new product development and marketing.
Companies who prioritize and are committed to creating a company culture of diversity have proven longstanding benefits. In a report from McKinsey & Company found that gender diversity in management positions increases the profitability of the company, and that companies with more culturally and ethnically diverse executive teams were 33% more likely to see better than-average profits.
Even still, most companies lack diversity and still have a long way to go before they have a representative amount minority groups in executive and management positions. Does your company have cultural competence? Companies can learn from public health organizations and self-assess their own level of cultural competence.
Customers' Cultures
Companies must understand culturally influenced consumer behaviors. Get to know customers' cultures such as their values, traditions, history, and institutions through research. Culture can have a powerful influence on individuals' experiences, how they relate to others, their perceptions, and the decisions they make. Culture impacts the way customers respond to products, services, and marketing campaigns. Companies that fully understand their customers know better ways to deliver and market culturally sensitive products and services.
Businesses are required to operate on a multi-cultural paradigm—and this shift must happen on a foundational level. According to studies, 21 of the 25 most-populated cities are already predominantly multicultural, and these numbers are only growing: In the next five years, the numbers of minority groups are set to grow by 11 million in the United States alone. Not to mention, thanks to the internet, most businesses naturally have a global reach and the marketplace is no longer just made up of siloed communities and borders.
To put into perspective just how powerful these cultural shifts are, one only needs to look at the way that general or traditional marketing no longer have the same impact that multicultural campaigns hold over consumers. Makeup lines who are appealing to minority groups are selling out in hours and popular non-native foods, like Siracha and Kimchi are expected to be found at the local grocery store.
A More Globalized Market
The market has been completely revolutionized by globalization which has been accelerated by automation and the advancement of technology. Jobs that once required no-educational level are quickly being replaced by high-skilled workers or are being off-shored—these shifts have been the root cause for income inequality and political movements. And as markets become more homogenized, so does the need for more politically aware and conscious businesses. International businesses would be wise to take into account that their influence does not work in vacuum, and that as the lines between markets continue to merge, so does their impact across countries.
The effects of globalization are mostly felt in systemic ways. The rise of populism is in direct response to multinational corporations having a stronghold on global politics and trade, and growing descent is only picking up momentum. Beyond surface level marketing tactics, global businesses would be prudent to prioritize their economic and environmental impact, and figures show that consumer purchasing behaviors follow these trends.
In the U.S. a recent study found that consumers considered brands who took a stance on social and political issues as "very important" and "somewhat important" over only 11% who felt it was not at all important. Since the 2016 presidential election, consumers, more so than ever, expect brands to outwardly show some type of social activism or stance on political issues and brands who remain culturally or politically neutral do it at the risk of growth and face future challenges. Therefore, cultural diversity within the workplace is a critical strategy for businesses who want to compete on the global stage.
Key Takeaways
Companies and employees with cultural competence thrive in the global economy. It's crucial for companies to have diverse employees and a solid emphasis on diversity and inclusion. Companies and employees who fully understand the intricacies of their customers' cultures are able to offer better goods and services. Having a singular worldview in the workplace only hinders innovation and far-reaching influence. The world will only be more diverse in the future; cultural competence in business is the way forward.