Blog
Introducing Fuel Cycle Ignition: The Agile Insights Platform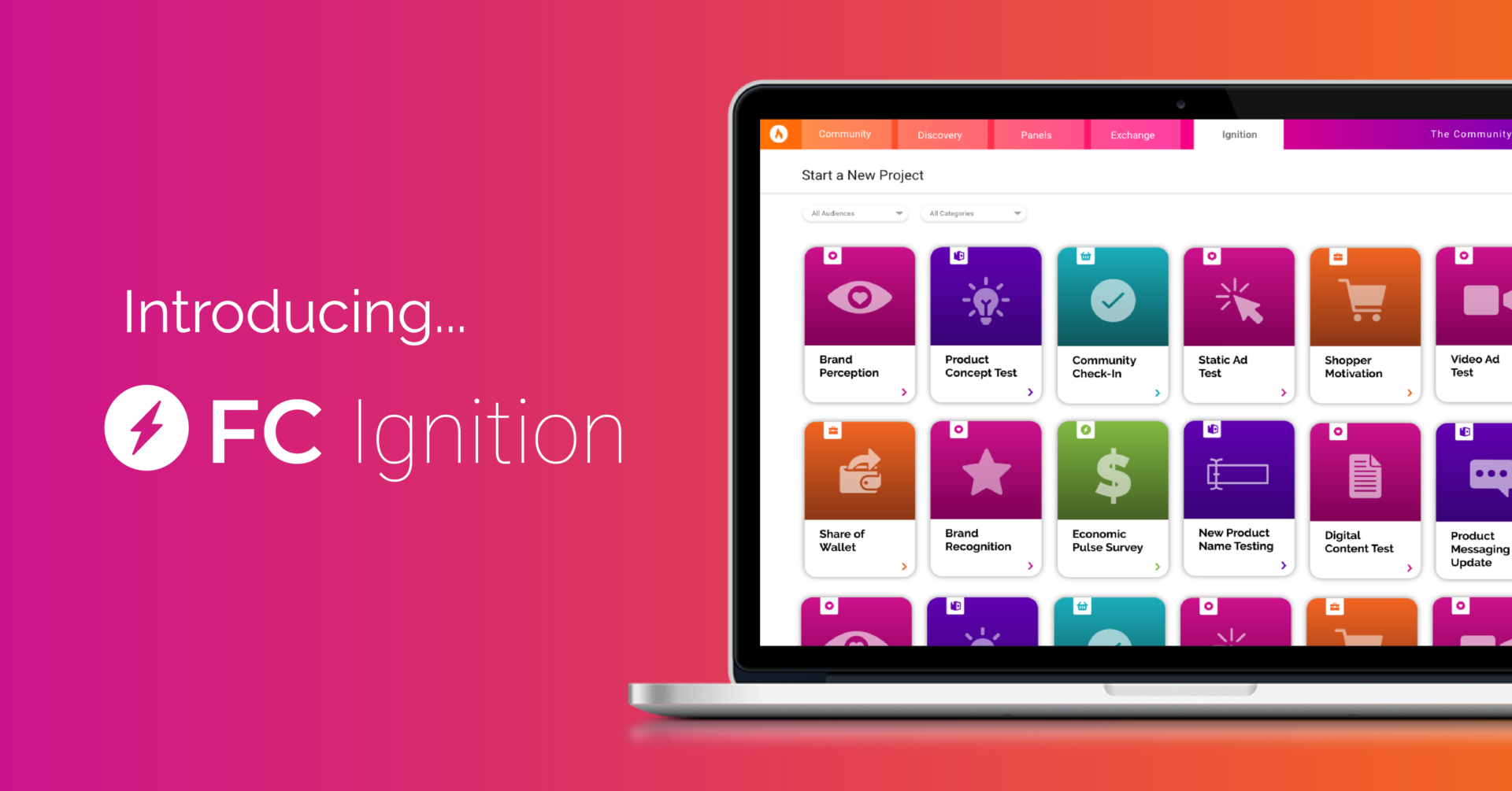 Authored by Rick Kelly, Chief Product Officer, Fuel Cycle
In a volatile and uncertain world, businesses need solutions that accelerate decision-making and ensures they can incorporate customer and employee needs into products, communications, and services.
Today, we're excited to introduce Ignition, the agile insights platform from Fuel Cycle. Ignition is a new solution suite from Fuel Cycle intended to accelerate customer and employee insights by simplifying and automating research processes as much as possible.
Ignition enables users to rapidly innovate, assess digital advertising effectiveness, and develop deeper connections with customers and employees with a robust set of tools accessible to anyone.
The Only Constant is Change
The only constant in our world is change. While the COVID-19 pandemic and accompanying economic challenges are top of mind today, the truth is that we've been living in an era of accelerating change for some time.
In the past ten years, we've witnessed venture-funded disruptors challenge incumbents in every sector, millions of workers move into the gig economy, and consumer spending patterns migrate wildly. There is no expectation for decelerating change in the future either.
Business leaders are tasked with delivering shareholder value. For many, this consists of trimming expenses in one department, optimizing customer acquisition costs in another, or distributing cash via dividends and buybacks.
While all these activities are important, it's critical to note that the only consistent source of value is repeatedly fulfilling customer needs. Customers pay for products; shareholders don't. Any other source of value other than meeting customer needs is a temporary salve that cannot provide lasting relief.
To succeed, businesses need to place customer needs at the center of every decision.
The Insights Problem
Traditional insights processes don't support the level of customer-centricity necessary to thrive. Traditional insights are episodic, occasional, and agency-planned, resulting in deliverables that often aren't aligned with the pace of business today.
Furthermore, planning cycles for insights generation often flow across multiple departments, causing time and productivity loss while efforts to capture insights are generated.
Organizations must adopt agile approaches that allow them to act in near real-time to evolving customer preferences and external factors that influence business success.
How Ignition's Agile Insights Platform Works
Ignition, Fuel Cycle's agile insights platform, allows businesses to quickly adapt to evolving circumstances, shrinking timelines, and the ever-growing need for stakeholder insights.
Ignition consists of three primary components: Ad Effectiveness Measurement, FC Live, and templated survey solutions.
Ad effectiveness measurement
Brand marketers need to assess the impact of digital brand marketing efforts across measures like purchase intent, brand favorability, and much more. Ignition helps marketers respond to effectiveness of campaigns, adjust targets, and maximize ROI on spend. Ad effectiveness is available in the United States and United Kingdom at this time.
FC Live – real-time video interviews & virtual focus groups
FC Live enables real-time focus groups and in-depth interviews for fast-moving product, UX, CX, and market research teams. FC Live has been available to Fuel Cycle Community customers for some time and is now more widely accessible. Thousands of FC Live virtual interviews have been conducted across the globe with high usability and low latency, supported by automated transcriptions from Voxpopme.
Templated survey solutions
Ignition provides out-of-the-box, expert-crafted insights solutions for many needs. With Ignition's methodologies, marketers gain massive efficiencies on brand tracking work, HR managers can quickly identify process improvement needs, and product teams can forecast growth expectations for new market entrants.
Each solution is simple, fast, and easy-to-use. Surveys can be run with nearly any audience; a customer list, an employee group, with a market research panel, or with your Fuel Cycle Community. In the near future, FC Live focus groups will recruit any audience and continue to work across any device – smartphone, tablet, and desktop.
The Fuel Cycle Research Engine
Ignition is part of Fuel Cycle's history of delivering valuable, innovative solutions to our customers and partners. Ignition comes with the same brand promise as our other solutions – built for innovative enterprises, high efficiency, and flexibility to grow.
Fuel Cycle Communities support the customer-centricity of many brands, including Tufts Health Plan, Northwestern Mutual, Hulu, Google, and many others. Fuel Cycle Exchange has enabled our customers to conduct any research they need with the leading insights solutions marketplace and delivered millions of dollars to our partner ecosystem.
To better support the explosion in FC product suites, we're consolidating our solutions by grouping them in two product suites:
FC CoRe – the Continuous Research platform
FC Ignition – the Agile Insights platform
CoRe consists of Fuel Cycle's Communities, Panels, and Exchange products. Ignition and CoRe work seamlessly together, but do not require each other for operation. Together, they are the Fuel Cycle Research Engine, a unified platform designed to support all facets of business decision making.
Relentless Customer Focus
Succeeding in an increasingly chaotic world requires relentless customer focus. The only source of long-term business value is repeatedly meeting the needs of customers and employees. To support that focus, brands need reliable insights quickly, that come back in hours or days rather than weeks and months.
We believe FC Ignition, along with FC CoRe, is a big step toward helping our customers and future partners achieve the customer focus they need to not just survive, but thrive.