Blog
The Enduring ROI of Online Communities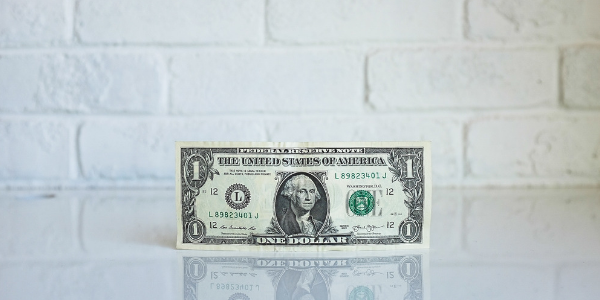 With nearly 80% of major companies managing an online community, there is a significant value in building engaged groups of customers and brand advocates. But it's not always easy to measure this value and account for the full financial impact communities can have on a business.
Unlike traditional research methods — which typically involve one-off projects with single-minded objectives — communities embody a continuous approach to customer engagement. Over time, they might address a variety of tasks and goals, from reducing customer service costs to improving employee engagement to spurring brand loyalty (to name just a few). Communities are not discrete research projects, but rather assets that appreciate with use, generating more value as membership grows and activity increases.
It's difficult to account for all the benefits that a community provides, given the various roles it can play and the wide-ranging impacts it can have across departments. While there is no single ROI model that can be applied across the board, there are a few general value propositions that make communities a cost-effective and profitable investment, capable of generating returns for years to come.
Community platforms pay for themselves in less than four months
Online communities begin paying dividends far sooner than other research investments. They lower costs by consolidating research activities such as surveys, live chats, diary studies, and focus groups into one place. Open-sourced community platforms like Fuel Cycle Exchange further streamline this work by integrating related apps and tools like SurveyGizmo, Voxpopme, Salesforce, Marketo, and more.
The speed of this technology, combined with an engaged audience of members who is always one click away, greatly accelerates the research process for companies, reducing cycle times by more than two-thirds on average.
There may be cost variations when first launching an online community, depending on whether companies opt for a self-service, full-service, or hybrid relationship with their vendor. But no matter what approach a company chooses, the simple value proposition of more research in less time quickly proves profitable. The vast majority of Fuel Cycle communities pay for themselves in saved research costs alone in just four months or less.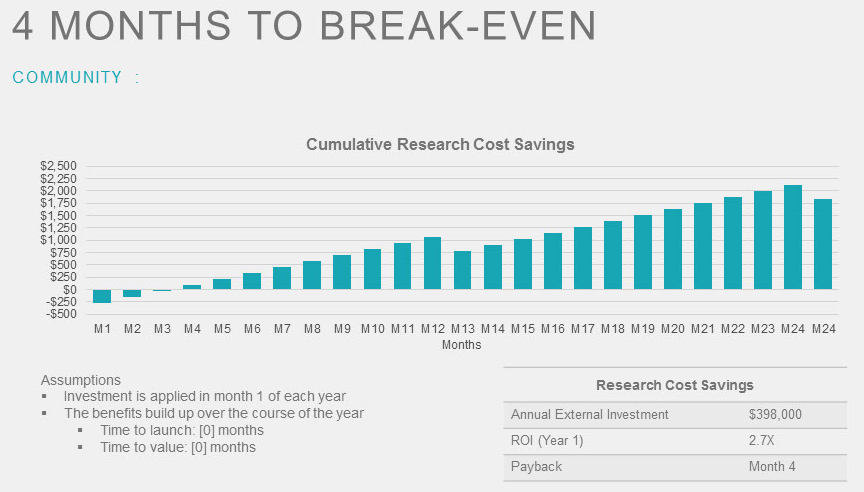 Real-time customer feedback prevents million-dollar mistakes
Perhaps the greatest financial impact communities have on a company is the money saved by avoiding cataclysmic errors. This could include an unsuccessful product launch, marketing campaign, price adjustment, or any other kind of major customer-facing decision that is supposed to provide a boon to business but could turn into a liability or sunk cost.
Savvy companies use communities to ideate, test, and validate the ideas behind their large investments. Media companies and automobile brands ask influencers to weigh in on big-budget ad campaigns before airing their primetime commercial. Healthcare and financial service companies use beta periods to uncover potential user experience issues in their new products. Technology and CPG brands poll consumers to gauge better the way that people shop and consume content online.
Many of these business development initiatives cost upwards of several millions of dollars, and their success becomes imperative in companies meeting their quarterly or annual targets. While communities certainly consolidate costs and boost revenues (as detailed in the next section), they are first and foremost a game-changer in their ability to help companies avoid fatal missteps.
Continuous engagement maximizes lifetime customer value
Beyond their role as a market research vehicle, online communities forge deeper relationships between a brand and its customers. Those who join a branded community spend up to 20% more on average compared to non-members and are less likely to leave for a competitor. As communities turn typical customers into brand advocates, companies often see their acquisition and retention rates rise, as well as related metrics like share of wallet and frequency of purchase.
Communities equip companies with the single best source of long-term competitive advantage. By harnessing the voice of the customer, management can make smarter and more customer-centric decisions, which results in a stronger overall customer experience that spurs a virtuous cycle of greater retention, advocacy, and new customer acquisition.
To best anticipate where the market is headed in this era that authorities like Gartner and Salesforce have deemed our current "Age of the Customer," the best strategy is to enlist the help of your most engaged customers. Brands like ELLE, Hulu, and AIG have found communities to be a cost-efficient method with nearly unlimited upside, helping to consolidate costs, accelerate insight generation, and power better decision-making across the organization.
It's never too late to launch an online community and build a sustainable edge over the competition. Fuel Cycle offers a free demo of its community platform to interested prospects, as well as private "Year One ROI" consultations for companies looking to analyze the performance of their existing community assets.